Traditional Sound/ Bass Sound Equipment
Sometimes switching from traditional speakers is difficult. You're in luck! We still have our original speakers that have performed for Dance 'Til Dawn for many years. Both systems offered here sound great indoor and outdoor.
Mini Concert Conventional Speakers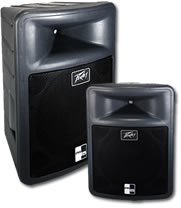 The Pro Lite™ series delivers superior sound quality by utilizing advanced materials, like its lightweight, roadworthy molded polypropylene exterior. The PR® 15 is a lightweight two-way speaker system that is yet rugged for live music or speech applications and will handle 400 watts program and 800 watts peak. Its durable injection molded enclosure features a black powder-coated steel grille that provides a professional appearance.
This system can be used on the floor or be pole mounted. Great for parties up to 250 people. Excellent sound and bass response thus making this package ideal for music playback and speaking events.
This is the most affordable system for parties up to 250 people. Great for pool parties, small indoor and outdoor events.
Additional subwoofers are available as an option for those wanting extra bass and a hopping dancefloor.
---
The Heart Pounder - Mains Speakers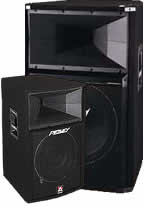 This system has 2 to 4 Peavey SP2G full range speakers and a pair of dedicated Peavey-DTH Concert Sub speakers that sit on the floor. Entire system is equipped with eight legendary 15" Black Widows capable of handling well over 4800 watts of heart pounding clean music. The sound is clear, loud and has the most bass of our entire collection of system packages. The speakers are stacked on top of each other and sits approximately 6 feet tall on each side of the dancefloor.
This system is best for proms, homecomings, large outdoor events such as car shows, quinceanearas, where the music is mostly rap, hip hop, pop, RnB and puts out tons of bass.
This system is the heaviest, requires the most room and is the most laborious to set up. This system is great for large indoor or outdoor events: Whataburger Field, Texas State Aquarium outdoor, Cole Park, Texas A&M outdoor events, American Bank Center showroom floor, football fields, etc.
Additional subwoofers are available as an option for those wanting extra bass and a hopping dancefloor.