Preferred Wedding and Quinceaneara Events Vendors
Dance 'Til Dawn DJ Music Entertainment has been around since 1988 and we have established many relationships with special events vendors in Corpus Christi and surrounding areas. Our experience with individual special events vendors grows every year and we are happy to provide you with a list of reputable companies for your wedding or quinceaneara.
Other DJ's in the Corpus Christi area - People ask why does a local DJ recommend other DJ's. Not all DJ's are the same and many times I am already booked. Some new DJ's are less expensive but there are also new DJ's who charge way more than Dance 'Til Dawn's rates. There is a DJ for everyone. I am helping out the DJ's below. Make sure to tell them you found them on Dance 'Til Dawn's website!
Photographers - Just like DJ's, not all photographers are the same
Cakes
Specialty Rentals
Videographers
Wedding and Quinceaneara Venues in Corpus Christi
Dance 'Til Dawn DJ Music Entertainment has played at numerous venues in Corpus Christi. We list several venues which we prefer and trust. This list is not a complete list of companies Dance 'Til Dawn prefers. Trust is the keyword here.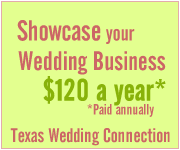 As always, each individual is unique in their needs. Take the time to visit with each vendor to see who is right for you. See their work and ask questions until you find the right person for your wedding. Individual experiences will vary for everyone. Ask around town for referrences.
Thank you for visiting my site.
Dexter Miranda - Owner
Dance 'Til Dawn DJ Music Entertainment
www.dancetildawn.com